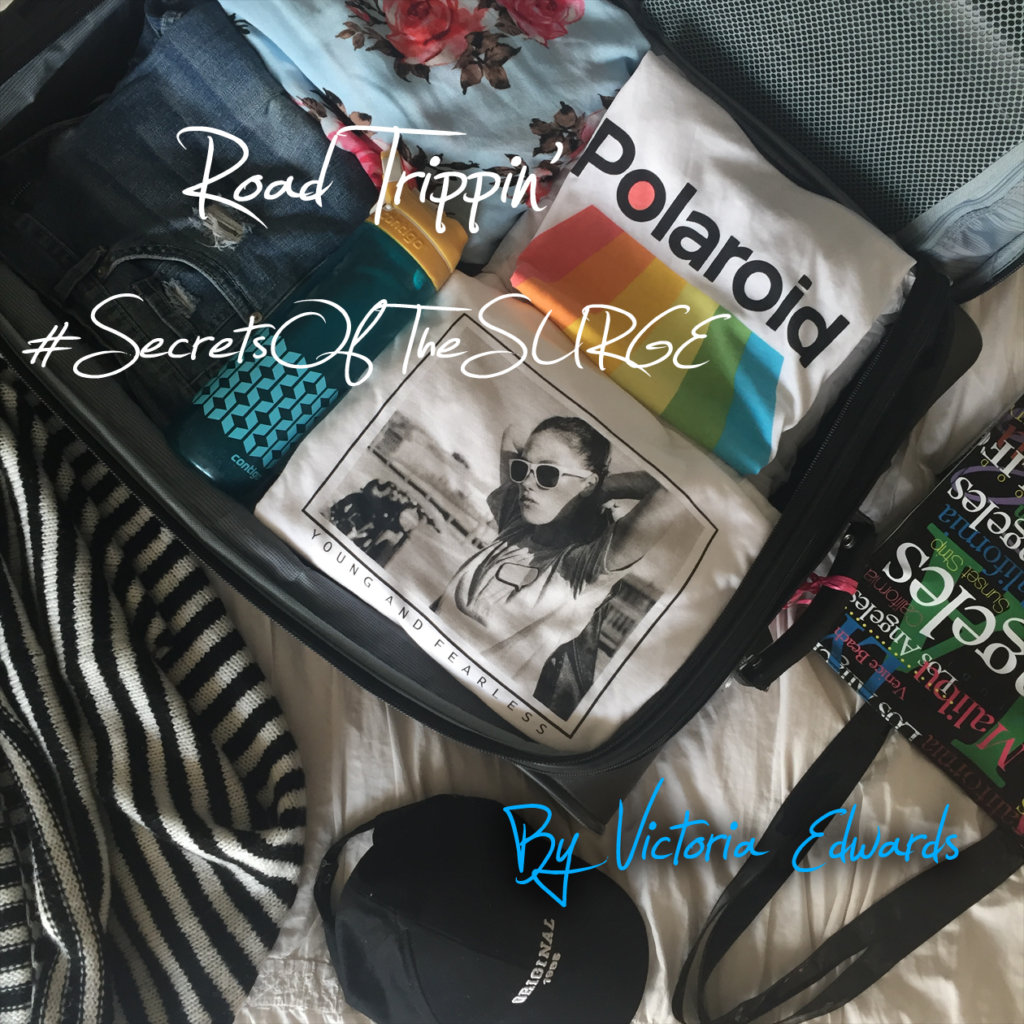 As a ministry, we take trips to a myriad of locations at various times throughout the year. Because of this, we have learned a whole lot of cool little tips about how to plan for a trip—near or far… Here are just a few of our "SURGE Secrets" for Road Tripping!
1. Music Playlist
The number one thing on my mind when my Mother informs me we are going on a road trip is… Whoohooo what kind of playlist will I make!?! Is it a sun shining summer adventure or a warm and cozy Christmas excursion?! As a worship leader, music sets the tone for my life and so… creating an atmosphere of AWESOME is oh so muy importante!
Our latest travel plans involve heading up to Northern California for some summertime ministry and fun! So our journey's karaoke set list MUST include:
Hollyn's One—Way Conversations
Bethel's— After All These Years
For King and Country's— Run Wild
And selections from Brooke Fraser's— Flags
And just about anything by:
Andrea Bocelli
Ella Fitzgerald and
Frank Sinatra…(because crooning fits EVERY occasion;)
2. A REAL Camera
Although iPhones are fantabulous—especially if you're in a hurry, The SURGE goes NOWHERE for ministry outings without our Canon EOS T2i Rebel. It is by no means brand new, but over the years, old faithful has captured beautiful shots and lasting memories that are consistently crisp and clear!
3. Snacks!
Ever heard of HANGRY? Yah, it happens to us SURGE girls too when we forget to refuel… Our faves for Road Trippin' are:
Kind Bars (since one member is Diabetic, it is a tasty low-carb alternative to Chewy Bars)
Grapes (pop-able treats that curb hunger when matched with itty bitty cheese squares)
Almonds (salted and roasted).
Homemade Popcorn (we pop the corn ourselves in a big steel pot, doused in extra virgin olive oil and sea salt)… It's our fave!
4. Hand Sanitizer and TP
There is never an adventure or ministry excursion that is disadvantaged by having one's own personal bottle of hand sanitizer and Kleenex tissue… or even a plain old roll of toilet paper available in the car. You truly never know the condition "Bill the gas station attendant" has kept his restrooms in there in the middle of Amarillo Texas… and thus… like the boy scouts say… Always BE PREPARED!
5. Vitamin C
Something The SURGE Casa runs on is Vitamin C! We get a certain type of C named "Ester C" with Bioflavonoids. It is one of the most powerful herbal supplements we have found to ward off anything from the common cold to chronic fatigue!
6. Natural Sunscreen
Our household runs the gamut of skin tones, so the most effective coverage we have found for all of our skin types has consistently been Extra Virgin Coconut Oil! If you stop to see the sights in warmer climates or just need some sun protection for your bare arms while sitting in your car… Coconut oil will do the trick!
We have found the oil keeps our skin from getting dry, absorbs enough sun to allow for a tan, but protects against UV rays for up to 45 minutes of direct sunlight without putting all that yucky toxic stuff into our skin that many of the regular sunscreens include.
7. Chargers
The truth about electronics on road trips is… we wish we didn't need them, but we'd be a bit lost without them! That being said, in any business or ministry adventure in today's fast paced society, you actually NEED your vast collection of electronic devices…
We, The SURGE, need our electronic devices on the daily… They expand our ministry, photo taking, project attacking, gift giving and memory building capabilities! And thus, chargers should always be nearby to make certain our little electronic friends keep working on our travels far from home!
Our SURGE tip? To recharge our phones we use a "Shockproof, Waterproof, Solar Charger"good for any iPhone, Samsung, or Android device. You simply use your phone chord with a little sunshine to recharge… and you save yourself the agony of searching for an outlet in remote locations!
Various companies sell them, but you can go to amazon.com or walmart.com and look up some reasonably priced options.
8. Baseball Caps
When The SURGE ministers, we move fast! And since we are ALL girls…between the random moments of ministry— whether it be worship sets, possible outdoor activities with new friends, late night and early morning counseling sessions or you name it— nothing is better than knowing… You DON'T HAVE TO DO YOUR HAIR!!
Baseball caps save lives! At least that is how I feel!!
From makeup to wardrobe, having a traveling ministry with women can take a lot more than you might think. And so Jesus favored us with… the baseball cap! With long, curly or textured hair there have been many times that a hat has saved us time and energy… time and energy better spent ministering or blessing the people we have traveled to see.
9. Multi-Socket Power Strip
Since we have a plethora of electronic devices, it is always handy to bring our own multi-socket power strip! There are NEVER enough outlets for recharging all of our electronics in hotel rooms or other places we may stay, so the one strip simplifies our life and helps us to stay ready in season and out.
Bonus Tip: Since all of our plugged-in items are in one place, when our trip is over and we are headed home from our amazing road trip… we don't forget a thing!
10. One Color Scheme
Once we volunteered at a church in North Carolina where the staff began to call us the "Black Angels." Since at that time only one of us was fully African American… we were slightly confused. Funnily enough, we later found out the staff was not commenting on our ethnicity, but on our wardrobe! They had noticed we always wore black (along with discreet bursts of color) and decided to label us the black angels because of it…
We wore so much black at that time because we had discovered packing with one color scheme in mind saves space in our luggage and time overthinking how to dress from day to day.
So if you tend to wear a lot of one particular color like red… simply make sure to pack plenty of other pieces of predominantly base colors that compliment red! Base colors would include white, black or even dark blue for pants, shoes, or undershirts… basic colors that will not clash with that one color you have chosen but still showcase your favorite red dress, blouse, or t-shirt.
Catch The Wave,
Victoria